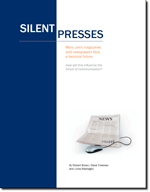 Here is an excerpt from our important new white paper "Silent Presses."
We're all touched in one way or another by an economy turned sour. But many career journalists and those who work in print media positions face a more traumatic present and a potentially more turbulent future than most.
Click here to download this white paper as a PDF.
We value your comments!