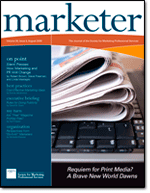 We at TWI are thrilled that our research made the cover of the August 2009 issue of the Society for Marketing Professional Services' Marketer journal. Here is an opening except of our cover story, "Silent Presses – How Marketing and PR Will Change" by Robert Brown, Steve Freeman, and Linda Mastaglio, all of TWI.
"Thirteen died from New York to California on one single day in April 2009, but their names won't appear in the obituary columns: They were A/E/C publications. This viral epidemic is destroying the magazine and newspaper industry as we know it. How will this new era impact your marketing and public relations activities?
"New paradigms, processes, and technologies are collapsing the traditional business model for journalists, publishers, and PR pros who supply them with news. Marketing and communications professionals need to explore the answers to these key questions: Where will the newspaper/magazine industry be in 10 or 20 years? Will there be print publications? Will there be reporters and editors? What will the landscape look like for media professionals? Will every publication simply be online?"
Click here to download the full article as a PDF.